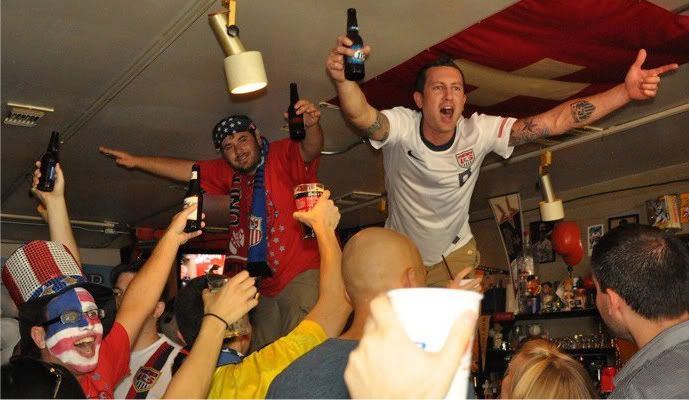 This weekend all over Houston, fans gathered, offices slowed down, and productivity came to a halt as followers of the beautiful game gathered to watch the tournament's first games.  
Anticipation for the 2010 World Cup has been palpable for years and excitement stratospheric since the draw this past winter announced the United States would face world-famous rivals and one-time colonial masters England. Supporters of both countries knew the game would be memorable and historical and gathered with friends to see what events would unfurl.
The Houston Dynamo hosted a massive viewing party at Discovery Green in downtown Houston and the Texian Army and American Outlaws hosted an official party at Ernie's on Banks.
Thousands of fans gathered in the midday heat in downtown Houston for the official Dynamo party, which featured a 16-foot-by-9-foot screen, Budweiser beer garden, Dynamo Girls, some members of Houston's front office, and a few of the Dynamo players. Fans had to get there early for the prime spots, but the park provided plenty of room for United States fans and even for a few of the brave England supporters. Everyone in attendance seemed to really enjoy the game and environment.
"I think it's a great atmosphere," Dynamo midfielder Sammy Appiah said. "It's going to draw attention to the game of soccer and it's really great for the game of soccer. I really like it out here. It is fun."
While the environment at Discovery Green was family-friendly, the Texian Army and American Outlaws party at Ernie's on Banks was only for the hardcore. The front of the museum-district bar was draped with a large American flag and a massive banner stating, "Wanks Not Welcome." A group of 50 fans greeted the bar's owner as he opened for the day and building was packed more than two hours prior to kickoff.
The atmosphere was all about the United States and the cheers, chants, and patriotic songs could be heard all the way down the block.
The next U.S. game is scheduled for the early morning on this coming Friday, and while many will have work, bar owners all over the city are expecting significant turnout from Houston's great soccer fans. The American Outlaws and Texian Army will host another viewing party at Ernie's on Banks and Lucky's Pub will play host for the Houston Dynamo's party. The MLS club also has parties scheduled for Mexico's games, with the next one scheduled for Thursday at the Hooters in Pasadena.
After seeing numerous bars and viewing parties filled up across town and hearing nothing but soccer talk all week, it seems that soccer's profile in Houston continues to rise and will be here to stay.
Here's some raw video taken from both events.